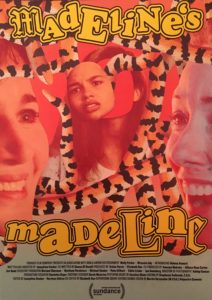 MADELINE'S MADELINE
Director/Screenwriter: Josephine Decker
Co-written by Donna DiNovelli
Producers: Krista Parris, Elizabeth Rao
Cinematography: Ashely Connor
Cast: Helena Howard, Molly Parker, Miranda July, Okwui, Okpokwasili, Felipe Bonila, Lisa Tharps
Madeline (Helena Howard) is dediated to her theatre workshop. Much to the worry of her protective mother (Miranda July), she has become an integral part of a prestigious, progressive, and experimental theatre troupe in the city, one that emphasizes movement, commitment, and an intense focus on authenticity. When the workshop's ambitious theatre director (Molly Parker) pushes teenage Madeline to weave her troubled history and rich interior world into their collective art, the lines between performance and reality begin to blur in surprising and potentially destructive ways, spiraling out of the safe rehearsal space and into her everyday interactions.


"…an experimental movie with the emotional tug of a mainstream hit, a fragmented coming-of-age drama…truly new and ineffable of its time. This is one of the boldest and most invigorating American films of the 21st century…" – David Ehrlich, IndieWire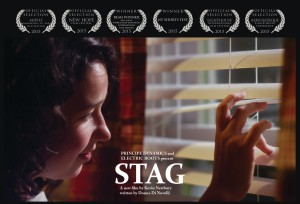 Screenplay by Donna Di Novelli
Directed by Kevin Newbury
Starring Sarah Steele, Peter Rini and Rachel Jett
Festival screenings, 2015-2016 including Montreal, Trieste, Toronto, Williamsburg, Minneapolis, Albuquerque, Manhattan, Los Angeles; Awards: "Best of New York"; a Gold Remi for Drama
See full cast & crew at IMDB.com.
Purchase STAG on iTunes.

SYNOPSIS
In the summer of 1963, fifteen-year-old tomboy Francesca (Sarah Steele, The Humans, The Good Wife, Please Give, and Girls) investigates the mysterious comings and goings in the family basement, the off-limits domain of her father (Peter Rini, Orange is the New Black). Her mother (Rachel Jett, The Body Artist) leads her to believe that the neighborhood men gather there on Fridays to play cards. The mystery deepens as she encounters locked doors and closed curtains. In a bold move, she hides out in the basement. What she witnesses there will change her vision forever.