MUSIC THEATER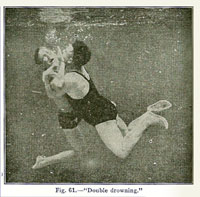 THE GOOD SWIMMER
By Donna Di Novelli and Heidi Rodewald
Directed by Kevin Newbury
Presented as a First Look at Prototype Festival, January 7-17, 2016
SYNOPSIS
Part Requiem, part lifesaving drill, The Good Swimmer centers around a family of lifeguards during the early days of the Vietnam War.
A new music-theater piece for two singers, a chorus of lifeguards and a rock band. All lyrics are created from 'found text'. Before the Tet offensive, before troops equalled 385,000 men, before protests exploded across college campuses, there was a good swimmer who memorized the lifesaving manual.
He had a sister. Her name was Antigone.
Watch the trailer

LITTLE HOUSE ON THE PRAIRIE
Lyrics by Donna Di Novelli
Book by Rachel Sheinkin
Music by Rachel Portman
Based on the Little House series by Laura Ingalls Wilder

Premiere Guthrie Theater, Summer, 2008
Opened for National Tour at Paper Mill Theater, Millburn, NJ, 2010
In revisions
SYNOPSIS
Set on the vast plains of the American West,
Little House on the Prairie
is the story of one girl's struggle with the wildness in her soul. Both girl and land fight against the forces that seek to tame them in this epic story of Western migration.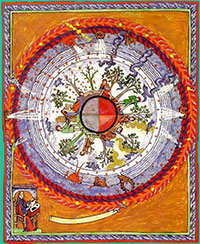 HILDEGARD: A MEASURE OF JOY
Text and translations by Donna DiNovelli
Music by Hildegard von Bingen and various composers, including new songs by Steven Stucky, Regis Campo; musical arrangements by Joseph Jennings.
Directed by Francesca Zambello
Commissioned by Chanticleer, San Francisco 2005
SYNOPSIS
Twelve Cardinals meet in Rome to decide whether Hildegard von Bingen should be canonized a saint. Moving from skeptics to believers, they take us through her life, her miracles, and finally, her defiance of Church authorities. The story is theirs: it is a journey of how they come to define and discover what is holy; what is blessed. The structure allows for a variety of music, sometimes medieval, sometimes contemporary, i.e., joyfully anachronistic. As Hildegard's sanctity is questioned in arenas both sacred and practical so, too, the music reflects worlds of exalted spirituality and profound simplicity.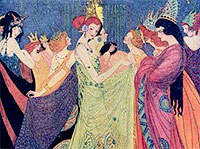 12 DANCING PRINCESSES
Text by Donna Di Novelli
Choreography by Naomi Goldberg
For the LA Modern Dance and Ballet Company,


Presented at the Ford Amphitheater, 2000
SYNOPSIS
A re-telling of the Grimm's fairy tale, for a dance company of 12 women ranging in age from 9 to 92. Written in 12 parts, each begins with a song title embracing the rebellious daughters' late night desires.
PRESS QUOTES
"Part dance, part theater and all enchantment…captivated from beginning to end in this 90-minute retelling of female royalty who mysteriously wear out their dancing shoes…"
-LA Times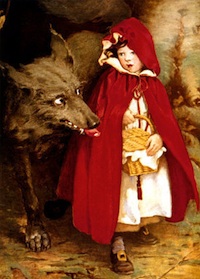 RED
A one act libretto by Donna Di Novelli
Music by Adam Cohen
Performed at Dixon Place, 1998
SYNOPSIS
A contemporary telling of the folk tale, Red Riding Hood, this Red has auburn hair; buys an apple at a bodega; and finds a wolf who can cook one mean apple pie.

PRESS QUOTES
"Donna Di Novelli wields one clever, lyrical mind, this time providing libretto for a psychologically savvy, fractured fairy tale involving a wolf, grandmother's lore and the feeling that eating an omelet will get you gobbled – or confine you to a kitchen forever."
-The Village Voice