OPERATIC WORKS & LIBRETTI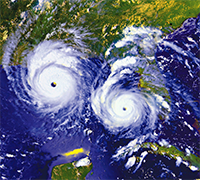 FLORIDA
Libretto by Donna Di Novelli
Composed by Randall Eng
Premiere, UrbanArias, Washington, DC, April 7-14, 2018. New York City Opera's VOX Festival, May 2002; The Public Theater, New Work Now! Festival, May 2002; Concert Version, Lyric Opera Cleveland, 2006; Bleecker Street Opera, excerpt, 2009
SYNOPSIS
Florida is the story of a teenage girl named for the scent of gardenias. It is the story of a summer vacation and it is the story of the murder of Florida's mother during that vacation. A piece that investigates community mores, it follows Florida as she tries to negotiate the demands of her family, her boyfriend, and her own desire. Caught between a demanding mother and an obsessive boyfriend, Florida opts for escape. Ultimately, this proves impossible and she is wrongly charged with the murder of her mother under the RICO laws. An episodic work for seven principals, Florida places seduction itself on trial as it takes the audience on a noir journey through the woods of suburbia. A highly-stylized opera/music-theater piece, Florida, presented at New York City's Vox program as well as the Public Theater's New Works Now! Series, is scheduled for an UrbanArias premiere in 2018, directed by Kevin Newbury.
PRESS QUOTES
"The piece asks, 'Who seduced you?' the answer must be Di Novelli and Eng."
— Cleveland Plain Dealer
"DiNovelli's libretto offers scenes as short and sharp as shards of glass to look at sex, murder and teen anomie..aided and abetted by Randall Eng's crisp, lemony chamber-jazz score."
— Mark Adamo, NYCO Composer-in-residence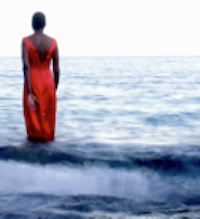 OCEANIC VERSES
Libretto by Donna Di Novelli
Created and composed by Paola Prestini
Film by Ali Hossaini; Directed by Kevin Newbury
American Concert Premiere: Kennedy Center, Washington, DC, June 23, 2012; New York concert premiere: River to River Festival, New York, NY, June 25, 2012; European Premiere: The Barbican Centre with the BBC Symphony, London, May, 2013
SYNOPSIS
Set against the backdrop of the Mediterranean Sea, Oceanic Verses is a meditation on fading civilizations, renewed and challenged by immigration. The opera follows the stories of four characters united by their desire to unearth the past. The journey is led by an archaeologist, (improviser Helga Davis) who sifts through layers of earth to find a Peasant (soprano Nancy Allen Lundy) seeking a better life for her future children; a Sailor, (folksinger Claudio Prima) searching for lost songs and a Soldier (Christopher Burchett) searching for a good meal.
PRESS QUOTES
"Paola Prestini, and her creative team have high ambitions…[and] common sense about what works onstage: characters you can connect to, music that engages.The layering of ideas and music knitted together to present something that moves forward with the vitality of the original folk material…Here's an interesting idea: Two of the four characters, the Peasant and the Soldier, are opera singers (Christopher Burchett and Nancy Allen Lundy); they represent… the life of the past, and their love story turns out to be sweet, simple and touching. Their old-fashioned, trained sound is juxtaposed with that of a folk singer, the Sailor (Claudio Prima), and an improviser, the archaeologist (Helga Davis, who dug into her lower register as an archaeologist digs into the soil): the rougher voices of the present day."
— The Washington Post
"The work, with a libretto by Donna Di Novelli, is a sweeping social portrait of southern Italy, with four unnamed characters representing some of the forces that have swept through the region over the centuries."
— The New York Times
Read the full review here.
Hear it on Spotify.
Watch the trailer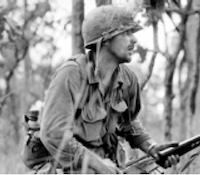 HEART OF A SOLDIER
Libretto by Donna Di Novelli
Composed by Christopher Theofanidis
Directed by Francesca Zambello
Based on a book by James B. Stewart
Commissioned by San Francisco Opera
Premiere: San Francisco Opera, San Francisco, CA; September 10, 2011
Thomas Hampson as Rick Rescorla, with William Burden as Dan Hill and Melody Moore as Susan Rescorla
SYNOPSIS
From the lilting ballads of the Cornish coast to the acid rock of Viet Nam, to the frenetic rhythms of lower Manhattan, Heart of a Soldier follows the journey of an Englishman who comes to the States in order to pursue his dream of becoming a soldier and a Yank. In the early 60's, Rick Rescorla meets an American soldier, Dan Hill, when both are mercenaries in Northern Africa. From that moment on the two friends form an unbreakable bond and set out on a warrior training course that leads them to Vietnam as platoon leaders. As Rescorla and Hill train their men and themselves to be battle ready, the definition of a 'soldier' comes into question. The ethos of the two men diverge, and Rescorla finds himself defying the powers-that-be within the Army—and when he feels forced to quit— outside of it. While preparedness is his constant mantra, neither he nor his life's true love, Susan, are quite prepared for their belated meeting on an East Coast sidewalk. Throughout the opera, Rescorla's conflict with convention sets him on a path where honor and service outweigh authority. A consummate military scholar, Rescorla applies his know-how to his career as head of security for Morgan Stanley in the World Trade Center. When on September 11, 2001 a passenger jet crashes into the North Tower, Rescorla holds the lives of 2,700 people in his hands. He has trained all his life for this moment.
PRESS QUOTES
"Di Novelli's libretto makes clear, without hitting us over the head, that the discipline and brotherhood Rick instilled in his troops in Vietnam are the same values he brings to bear in helping the employees guide each other down those stairs…undeniable power…there's a lovely, lyrical duet that captures the hope and embarrassment of two people in their 50's falling deeply in love."
— ABC News
"…Christopher Theofanidis and librettist Donna Di Novelli gather up the disparate thematic threads of their work into a single powerhouse aria for the main character, Rick Rescorla…in just a few minutes of impassioned musical oratory, superbly delivered at Saturday's world premiere by baritone Thomas Hampson it captures everything–the heroism, the moral fervor, the staunch and committed love for one's fellow humans…no denying the splendor of Saturday's performance…"
— San Francisco Chronicle
"…the work is among the best contemporary operas…Donna Di Novelli's libretto…is excellent, especially in the second act's romance between Rick and his wife Susan, both in their 50's."
— San Francisco Examiner
"This may well be the first opera to take such a firmly committed expository stance…The closest we may get to a precedent for exposition may be Philip Glass' operas Satyagraha and Appomattox, but both of these operas are more involved with addressing the consequences of events, rather than the contexts in which the events occurred. Thus the expository approach taken by Heart of a Soldier was really staking out new ground in the opera world. "
— The Examiner.com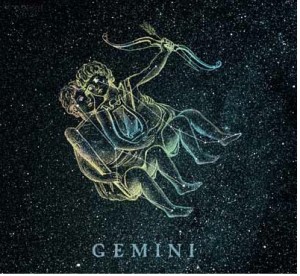 BEFORE THE NIGHT SKY
New Opera in development
Music by Randall Eng
Excerpts, Opera America, January 13, 2017
SYNOPSIS
Two brothers and two sisters share a mother enamoured by a white swan. The brothers are inseparable daredevils sought after by both opera houses and seafarers for their knowledge of riggings. The sisters include one happily domestic, the other, gone missing. Will the adventuring brothers find her in time?
Along the way:
The Night Sky comes alive with Constellations singing to help the earthbound navigate. "Look out Below!"
Watch the interview with the creators